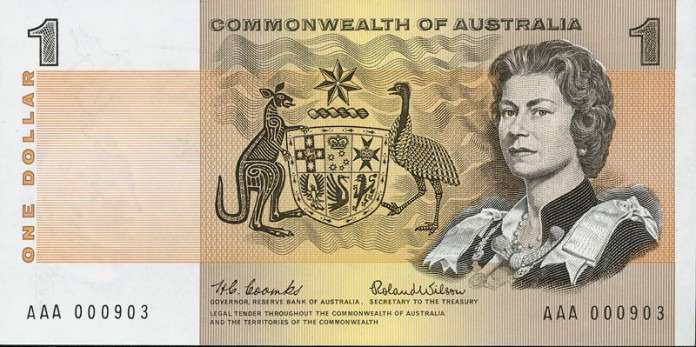 Tony Richards, the Head of Payments Policy Department of the Reserve Bank of Australia (RBA), told a payment conference in Sydney this week that the advent of a digital national currency is a possibility.
Richards stated:
"Let me stress that the Bank has not reached a stage where it is actively considering this, but in the more distant future it is even possible that we may we see a digital version of the Australian dollar."
The RBA apparently believes it is improbable that privately-established digital currencies like Bitcoin, with its significant price volatility, could displace established, low-inflation national currencies in terms of usage within individual economies. However, the bank sees promise in the blockchain technology behind Bitcoin being adapted to create central-bank-issued digital currencies.
Richards added:
"A plausible model would be that issuance would be by the central bank, with distribution and transaction verification by authorised entities, which might or might not include existing financial institutions. The digital currency would presumably circulate in parallel and at par with banknotes and other existing forms of the national currency."
Richards highlighted how some countries have explicitly discussed the possibility of digital versions of their national currency, including the United Kingdon, Canada and recently China. The RBA will look at what is possible and what is problematic, as countries consider going down the path of digital currency issuance.
Richards opined that it would take time for countries to transition to digital currencies as both the risks and usability are assessed against the alternative systems and technology.
"Given the various cybersecurity and cryptography risks involved, my personal expectation is that full-scale issuance of digital currency in any country, as opposed to limited trials, is still some time away. And I think it remains to be seen if there is real demand for a digital equivalent of cash and what it might offer end-users relative to what will be offered by the various forms of real-time payments that are being developed in many countries through projects like the NPP."
As the overseer of securities clearing and settlement facilities licensed to operate in Australia, the RBA also has an interest in the plans of the ASX Group to trial the use of distributed ledgers for Australian markets. Richards indicated that RBA will be working closely with ASX as it considers whether a distributed ledger solution might be the best way to replace its existing CHESS infrastructure.