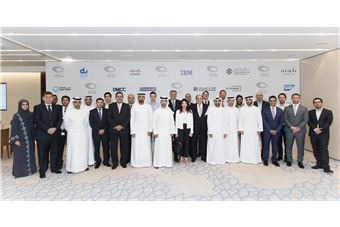 The Dubai Museum of the Future Foundation, a government incubator of innovative technologies, says that it is establishing a Global Blockchain Council to explore current and future applications of blockchain technology. The council will examine the implications of the technology on the future of business and finance sectors.
The establishment of the Global Blockchain Council is apparently in line with the efforts of the incubator to promote innovation and use the next generation of technologies to enhance UAE's position as a center for innovation and knowledge economy.
Saif Al Aleeli, CEO of Dubai Museum of the Future Foundation, said the establishment of the council is consistent with its vision of developing smart cities of the future and innovative solutions. Al Aleeli said that several studies indicate that over the next four years the global market for digital transactions will reach $9.5 billion, and the global investments in blockchain technology will reach the $300 billion.
He also said:
"The Global Blockchain Council will launch different initiatives under its umbrella to highlight and promote Blockchain and digital currencies, and explore its advantages and disadvantages. It will also draw a roadmap for best uses of this emerging technology."
Initiatives planned for the council include a high profile annual conference, workshops, awareness sessions, hackathons, and startup conferences to connect with potential investors.
The council will also help UAE authorities and corporations better understand this technology and consider its regulatory implications, and conduct pilot projects to test the readiness of markets to adopt digital currencies.
Dr. Aisha Bin Bishr, Director General of Smart Dubai Office, added:
"By quickly mobilizing a joint council of public and private sector stakeholders, Dubai asserts its commitment to an agile and collaborative government that embraces technology innovation to enhance quality of life for all. New technologies such as Blockchain open significant opportunities for all service providers to reshape transactions, making experiences more seamless and secure for all customers."
The first pilot project is the BitOasis project, which will be implemented by Dubai Multi Commodities Centre (DMCC) to secure flexidesk contracts and registration process using blockchain technology. The second pilot project is with Kraken Bitcoin Exchange, which will help DMCC catalyze Blockchain technology in select Islamic finance operations.
The council consists of 32 members, representing government entities, international companies, leading UAE banks, free zones, and international technology firms. Currently the list includes: Microsoft, Du, SAP, IBM, Cisco, TECOM, Dubai Holding, Dubai Multi Commodities Centre (DMCC), EmirateNBD, Emirates Islamic, Dubai International Financial Center (DIFC), Souq.com, Careem, Mashreq, InfoSys, Wamda, Propertyfinder.com, Kraken, BitOasis, Umbrellab, AstroLabs, YellowPay, SmartStart Fund, Etheruem, Viktor Koenig LLC, Privity FZ LLC, Digitus, Network int, Michael Mainelli, Vinay Gupta, Smart Dubai Office and Dubai Smart Government.